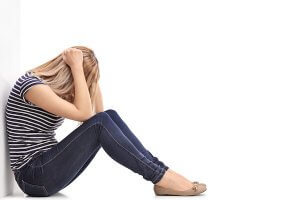 Maggie French was 12 when she started drinking. According to Maggie, "it was pretty standard where I grew up," in Vermont. By 15, she was using heroin intravenously. Little did Maggie know she was part of a trend – young Vermonters using drugs at an alarming rate. For the year 2007-2008, "Vermont ranked first among all states in several drug-use categories among persons age 12-17." When in his 2014 State of the State Message, Governor Peter Shumlin of Vermont announced the seriousness of the drug crisis in the state, particularly concerning drug overdose, he got the nation's attention. "'Every week, he said, more than $2 million worth of heroin and other opiates are trafficked into Vermont.""How could it be happening in this dairy capital, this Green Mountain state?" people were asking. Experimentation and risk taking have always been signature traits of adolescence. But the trend was being driven by new influences, such as self-medication. Young people use drugs to dull their emotions, to heighten their lows, to improve their performance, to increase productivity.Trends like increased availability of adult medications, normalization of "performance enhancement," and medicating children at a young age, such as prescribing Ritalin for ADHD, have contributed to a culture of self-medication – feeling "different"? Medicate. It has become as much a part of young substance abuse as developmentally related motivations like thrill seeking and risk taking.
---
In unexpected places like bucolic Vermont, these new motivations help drive addiction across all social boundaries.
---
One Harvard undergraduate, discussing the stresses of school, inadvertently brings up drug use via self-medication as if it were a normative option:
"Even if you didn't feel like an overachiever, you still had to fake it because everyone expected you to be one. I learned that if you didn't fit in, it was up to you to change to adapt to Harvard. Otherwise, the options available to you were to take a year off to think things through, to self-medicate your way through to graduation, or to have a shrink prescribe anti-depressants to numb your disgruntlement. I was shocked to see just how many students there had access to drugs and how many students were taking anti-depressants."
By age 17, Maggie reports, she was chasing the dream of becoming an actress – "a hundred pound blackout drunk girl" alone in New York City. One of the characteristics of teen alcoholism is that "teens are more likely to black out (be conscious but unable to remember)." Maggie was on the young end of the curve when she began drinking at 12. But most people who will have substance issues are not very far behind her. Well over 90% of those struggling with addiction began their illicit use before age 25.
The Shape of Recovery for Those Who Start Young
In her Far from Finished podcast, Maggie French reports always looking outside herself for solutions. She remembers her disappointment one childhood Christmas when the gifts under the tree failed to uplift her in the way she'd expected. Later in life, she turns to boyfriends for that boost. Most of the research points to the fact that her young age also made her extremely vulnerable to the worst possible outcomes. "Research shows that the earlier a person begins to use drugs, the more likely he or she is to develop serious problems.8 This may reflect the harmful effect that drugs can have on the developing brain;"
"One of the brain areas still maturing during adolescence is the prefrontal cortex—the part of the brain that enables us to assess situations, make sound decisions, and keep our emotions and desires under control.11 The fact that this critical part of an adolescent's brain is still a work in progress puts them at increased risk for making poor decisions (such as trying drugs or continuing to take them). Also, introducing drugs during this period of development may cause brain changes that have profound and long-lasting consequences."